Green investments enter the stage in Tampere, Finland – October 2019
It was a great experience to introduce new financial instruments to regional business developers, company representatives and others who work with circular economy and sustainability projects in Tampere, Finland. The Council of Tampere Region (Pirkanmaan Liitto) organized this afternoon event in cooperation with Arctic Values.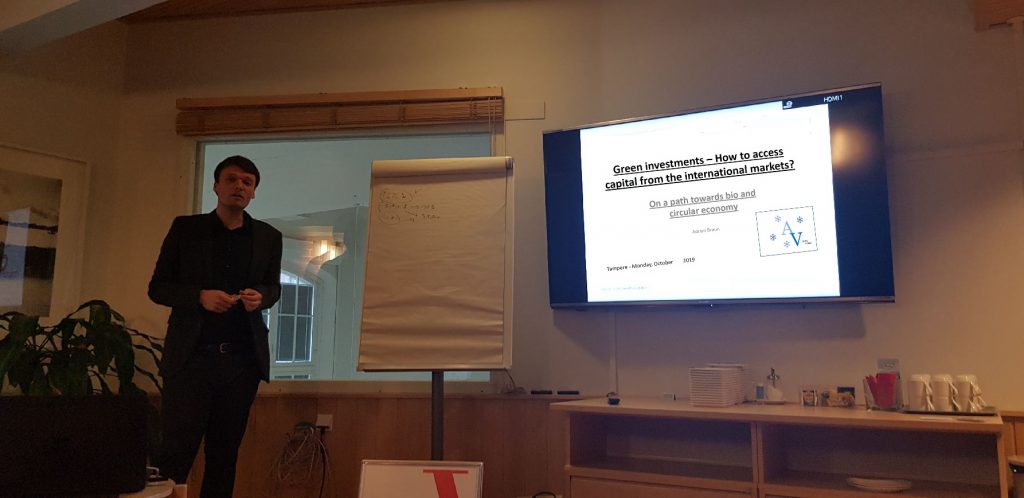 Green bonds and social & environmental impact bonds are novel solutions to raise green capital in order to finance bio and circular economy projects. Financing green projects requires diversity in funding sources and project developers need to increase the awareness what the global investment community could provide and why the demand for green investments is continuously growing.
This theme was discussed a whole afternoon and the participants were curious about the concept and opportunities and contributed very well with valuable questions and comments. Moreover several attendees linked the outlined green financial instruments to their own current and future projects.
Overall supply and demand match in this perspective. Global investors seek green projects to allocate capital. On the other hand in the Nordic countries (and many other markets) is no lack of green initiatives that strive for sustainable development and low-carbon solutions and therefore responsible investors are very welcome!
For further information please contact Arctic Values founder and Tampere workshop speaker Adrian Braun.
E-Mail: adrian.braun@arctic-values.com
---
---